FLOWMETERS & METERING INJECTION
Blue-White Industries is a Leading Manufacturer of Chemical Metering Injectors. Variable area Flowmeters, Electronic Meters and Water Treatment Accessories.
Flowmeters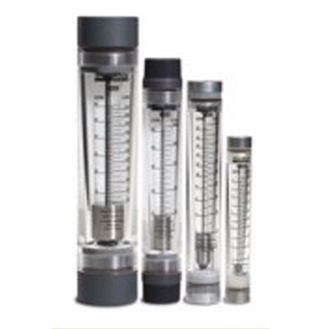 In-line F-400 Series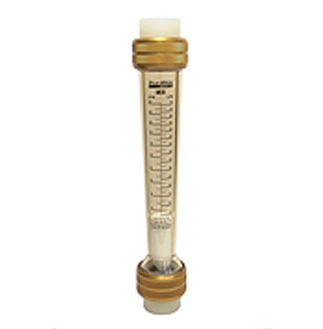 F - 460 Series
Blue-White's Newest Variable Area Flowmeters! The F-750 Series is designed for Panel Mount installation, is very economically priced, and may be ordered with an integral flow adjustment valve. It's great for new applications, or for retro fit. The F-460, Metal Free flowmeter is well suited for Ultra Pure applications. Precision float guides are molded into the meter body, floats are constructed of Teflon, or PVDF. The Heavy Duty F-650 is an armored glass tube meter. It features tube construction of Borosilicate Glass, a Polycarbonate Tube Shield, and floats of Glass, Sapphire, #316 Stainless Steel, Carboloy, or Tantalum (float material depends on calibration).
Injection Molded Polysulfone Flowmeters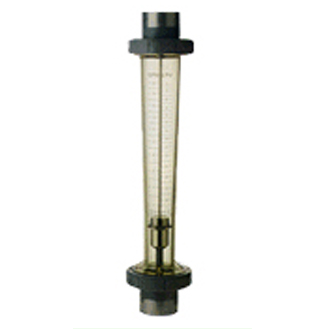 F - 451 series
Blue-White's Polysulfone, Variable Area Flowmeters, Feature meter body construction of injection molded, heat and chemical resistant Polysulfone;

Polysulfone Adapters; Wear and corrosion resistant internal parts, such as floats and float guides; Viton* o-ring seals; and permanent screen printed scales

Standard units are designed for in-line installation, however, units are also offered with 90 degree adapters for panel mount installation. Additional optional features include: Integral flow adjustment valves, protective shields, and Specially Equipped units for harsh environments.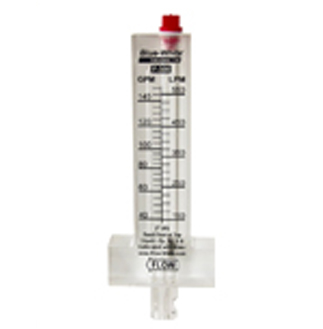 F - 300 Series
Blue-White's tough, machined acrylic flowmeters are offered in styles for in-line, panel mount, or closed pipe installation. Internal parts are designed to be wear and corrosion resistant, scales are permanent, and screen printed directly onto the meter body. A wide range of both liquid and air calibrations are offered. Optional features include Integral Flow Adjustment Valves, and High/Low Level Alarms.